Taqueria Coatzingo, A Taste of Mexico in Jackson Heights, Queens
Almost all Mexican-food lovers in the United States are familiar with the carnitas taco. If you are not familiar with carnitas, it is a lot like pulled pork, except it is cooked in its own fat to make it extra delicious. This is a dish that can be found at more commercialized and Americanized establishments such as Chipotle, as well as privately-owned businesses run by people who are actually Mexican such as Taqueria Coatzingo in Jackson Heights. The term "carnitas," can be defined as a "shoulder of pork that's been seasoned, braised until tender with lard and herbs (oregano, marjoram, bay leaves, garlic), pulled apart, and then oven-roasted until slightly crisp, then eaten alone or used as a filling for tacos, tamales, tortas, and burritos." (Chen) Carnitas can be literally translated as "little meats" and can be traced back to the Mexican state of Michoacán. ("Carnitas") Although found in different forms, the most popular way to eat carnitas is via taco.
When you go to a Mexican restaurant and order a carnitas taco, it is pretty safe to know what to expect. It will be a corn tortilla, sometimes two, with carnitas layered on first, followed by diced onions, salsa, guacamole, and maybe some cilantro. This may sound simple, but the process of braising the pork creates a juicy and tender bite that truly does not need much added to create a perfect taco. Last week, I went to try a Mexican restaurant that I have never been to before in Jackson Heights called, Taqueria Coatzingo. As a known lover of a carnitas taco, that was the first thing that I knew I was going to order. I also ordered the al pastor taco, which can be translated as the Pastor, or in this case, "shepherd style," which was a name given to Lebanese immigrants traveling through Mexico City. They brought with them the idea of shawarma which the Mexicans then adapted into the al pastor taco. (Chen) Al pastor is also a pork dish and can be best described as "crisp-thin shavings of vertical spit-roasted pork, marinated with guajillo chiles and achiote, then served on tortillas." (Chen) It is also often marinated with pineapple and sometimes served with slices of pineapple in the taco. I also ordered a pollo asado taco which can be translated to a grilled chicken taco. Finally, my meal was complete with an order of chips and guacamole. Everything was delicious, but the shining star of the meal was definitely the carnitas taco.
Before I get into the details of the experience of eating this taco, I'd like to set the scene for you all. When we walked in, we encountered a wall to our left with bright pictures of all of the drink options. There were neon lights throughout the restaurant which explains why many of my pictures look unnaturally green. The waitress told us we could seat ourselves, and so we did, and proceeded to immediately order guacamole. Many of you are probably familiar with guacamole as one of your favorite dips to order when you go get Mexican. However, what you may not know is that the term guacamole actually originates from the Nahuatl word "ahuacamolli," meaning "avocado based sauce." When the guacamole arrived and I took my first bite, I found myself thinking that there was no way that the meal could get any better. I even decided to experiment and put some of the homemade tomatillo salsa (translated as little green tomato sauce) on the chip with the guacamole, and I must say that was a game-changer. However, if I don't stop myself now, I will never get to the carnitas taco.
The first sign of a great taco is how fresh the tortilla that they are served on seems to be. It was clear that Taqueria Coatzingo used store-bought tortillas because you could see the packages when you walked in, but they tasted very fresh so I did not mind. I have to admit that I had never known that carnitas were fried, but when the waitress informed me of that, I can't say I was that surprised because, after all, everything is better fried. As I mentioned earlier, I also ordered the al pastor taco and the pollo asado taco. I made sure to eat those first, because I was purposely saving the best for last. Just to clarify, that does not mean that the al pastor and pollo asado tacos were not amazing, they were. All it means is that I know myself and the undying love I have for a carnitas taco, so I had to work my way up to that level of delicious food.
Flash forward about twenty minutes, two tacos, and an alarming number of chips with guacamole, it was finally time. I squeezed my lime over the guacamole, fresh onions, and cilantro that was layered over the deliciously fried pork below. I added a little bit of the tomatillo salsa, because I believe everything is always better with more salsa, and finally went in for my first bite.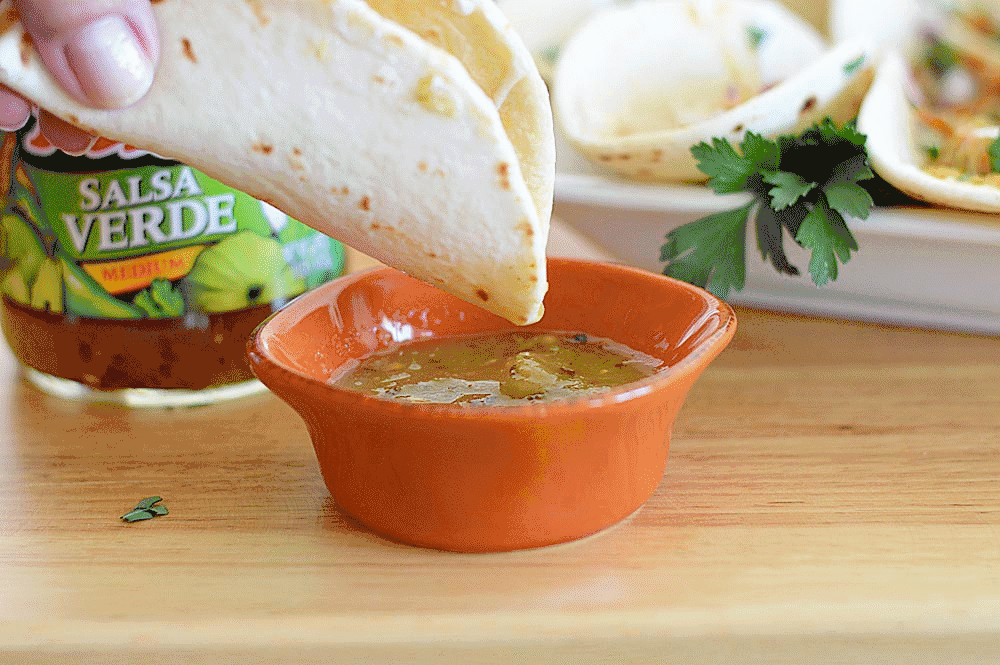 I don't mean to be dramatic, but I can only begin to explain how good this taco was by comparing it to how I felt the first time I read East of Eden. To put that into perspective, East of Eden is my all-time favorite book. I was filled with mixed emotions on whether I was happy or sad. Happy, due to the fact that I was indeed eating a delicious taco. But at the same time, sad, knowing that I would never again be able to experience trying the carnitas taco from Taqueria Coatzingo for the first time ever again.
To stray from the dramatics for just a moment, this taco was genuinely really amazing. I realized that most of the carnitas tacos that I have had in my life we actually Americanized versions of the dish. For example, I went to La Taqueria at St. Marks place a couple of weeks ago and looking back, it was not fried pieces of pork shoulder, but actually pulled pork. I don't think there is anything wrong with that, due to the fact that pulled pork is a highly popular southern dish and cultural blending, especially when it comes to food, is bound to take place. However, I still thought that this was a fascinating observation. The pork on the taco at Taqueria Coatzingo were thicker pieces of meat than I was expecting. However, the way the pork was fried in its own fat charred it on the edges of the thicker pieces of pork created such a delicious flavor of spice, tomato, onions, and whatever other amazing ingredients that they marinate the pork in. I definitely can say that I prefer the thicker pieces of meat.
Overall, my experience at Taqueria Coatzingo was a very positive one. I enjoyed every single thing on the menu I tried and I will definitely be going back again soon to try more items from the menu. In addition, it also brought me out to Jackson Heights, which is an area of Queens that I have never had a reason to explore so it was cool to visit a new place and see all of the amazing, and culturally diverse food options that Jackson Heights had to offer.
Since I talked a lot about carnitas, I thought I'd link this really interesting video about carnitas at the end here for those who would like to learn more!